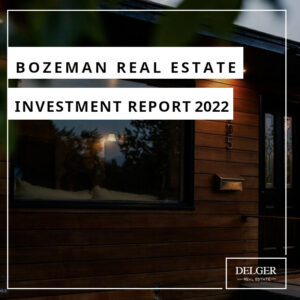 On a national level the rapid real estate appreciation and profits property investors and managers enjoyed post- pandemic have fallen back to earth and are "normalizing" in 2022. Real estate investments are facing cyclical headwinds like rising interest rates, declining gross domestic product (GDP), and declining deal flows.
However, investing in real estate remains the most sought after investment globally, and Bozeman remains a strong market for real estate investments. The primary story for Bozeman Real Estate in 2022 was strong demand with very limited supply. However, the number of buyers in the market is down from 2021.
The real estate investors we work with are optimistic as there is no immediate solution to the lack of housing in Bozeman. Investors are still seeking good investment property in Bozeman, and are expecting sustained growth and strong returns… over the long term. The biggest challenges investors faced in 2022 was cost of capital putting pressure on cash flow, and inflation driving up property prices. Increased financing costs combined with the increase purchasing prices for rental properties makes it difficult to get positive cash flow. Rent prices are rising, but will take a while to catch up.
Despite the U.S. Federal Reserve's aggressive rate hikes — including four consecutive hikes of 75 basis points — inflation is still running hot. Bank of America doesn't believe inflation will go back to normal 2% rates any time soon.
"Historically, it takes an average of 10 years for a developed economy to return to 2% inflation [once] the 5% threshold is breached." quote from Bank Of America.
Mortgage rates increased over 3% in 2022 making it difficult to find investment properties in Bozeman that generate positive cash flow.
Having a long term view is key. As one investor stated "We'll look back in 10 years, and the prices that seem astronomical today will seem like a bargain."
Investing in real estate remains the most sought after investment globally.
When many people think about investing, they think of the stock market. However, a global investment report published in 2022 by Forex Suggest looked at which investments received the most Google searches. Search volume on Google is a good indicator of which options investors are wanting to learn more about.
Real estate is the most searched investment type with over 1.16 million searches over the last 12 months. Real estate was the number 1 investment search term in 11 different countries including the United States.
The Most Searched Investment Type Globally
| | | | |
| --- | --- | --- | --- |
| Rank | Investment | Search Term | Search Volume |
| 1 | Real Estate | invest in real estate | 1,164,000 |
| 2 | Stocks | invest in stocks | 867,000 |
| 3 | Gold | invest in gold | 850,500 |
| 4 | Cryptocurrency | invest in cryptocurrency | 814,700 |
| 5 | Mutual Funds | invest in mutual funds | 744,500 |
| 6 | Property | invest in property | 717,500 |
| 7 | Crypto | invest in crypto | 560,900 |
| 8 | Commodities | invest in commodities | 443,200 |
| 9 | Bonds | invest in bonds | 377,100 |
| 10 | ETFs | invest in etfs | 317,600 |
Types of Real Estate Investments
There are several types of real estate investors should be familiar with: commercial, residential, raw land, new construction, crowdfunding platforms, and REITs. Each of these types will come with unique advantages and disadvantages that investors should evaluate.
Residential Real Estate
Commercial Real Estate
Raw Land & New Construction
Real Estate Investment Trusts (REITs)
Crowdfunding Platforms
Bozeman Residential Real Estate Investment Outlook
Delger Real Estate is primarily focused on Residential Real Estate. Quality of life plays a big role in where people choose to live and Bozeman continues to be one of the fastest growing real estate markets. Gallatin County remains the fastest growing county in Montana, growing at over 37%. Demand for residential rentals remained very strong in 2022, and the supply of good rental properties was low.
The median price for single family homes sold in Bozeman City Limits increased 14.4% over 2021, and 109.44% in the 5 years from 2017 to 2022.
43% of households in Bozeman are owner-occupied. 57% of households are renter occupied. For the state 68% of households are owner-occupied, so Bozeman has a much lower rate of owner occupancy.
Bozeman Rent Prices
As of December, 2022, the average rent for a 1-bedroom apartment in Bozeman, MT is $1,874. This is a 5% increase compared to the previous year. The average rent for a 2-bedroom is $2,150. The average rent for a 3-bedroom is $2,650. The average rent for a 4 bedroom is $3,700 which is a 18% increase from the previous year.
Please Contact Delger Real Estate if you would like to learn more about Investment Real Estate in Bozeman and the surrounding area.