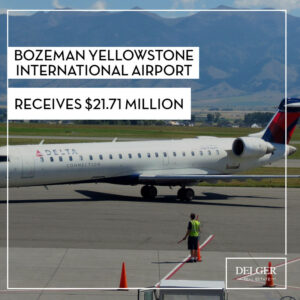 Bozeman Yellowstone International Airport will receive $21.71 million over a five year period as part of the Infrastructure Investment and Jobs Act. The money comes from the Federal Aviation Administration and is the first round of cash awarded to 69 Montana airports from the infrastructure package, according to Democratic Sen. Jon Tester's office. The bill, which was signed into law on Nov. 15, 2021.
Bozeman Yellowstone International Airport Director Brian Sprenger said that the incoming money would help to move up projects from 2023 to this upcoming year. Sprenger said that general and business aviation ramps would be resurfaced with fresh asphalt, and that tie-down ramps at the airport would be expanded.Tie-down ramps are for the smaller, lightweight aircraft, like Cessnas, that could be blown by a strong wind.
Sprenger said that the airport has to pay for the work first, and the federal money would come as a reimbursement. The amount of money is determined by a needs formula, which calculates the number of enplanements — how many people get on a plane — an airport gets each year.Sprenger said that the airport is on its way to breaking its previous enplanements record from 2019. He estimated the airport is on track to have 970,000 enplanements this year. The record in 2019 was 785,000, Sprenger said.
"This is additional money which allows us to move up projects so we can accelerate things, which is great in our current growth environment," Sprenger said.
Source: Bozeman Daily Chronicle – Millions earmarked for Bozeman, West Yellowstone airports