The Main Street To The Mountains trail system in Bozeman has over 80 miles of trails in the city. There are trails that wind through Bozeman subdivisions great for running and biking, trails across ridgelines and trails that connect up to the mountain trail systems outside of Bozeman. The Gallatin Valley Land Trust and many volunteers have worked hard to expand and maintain these trails.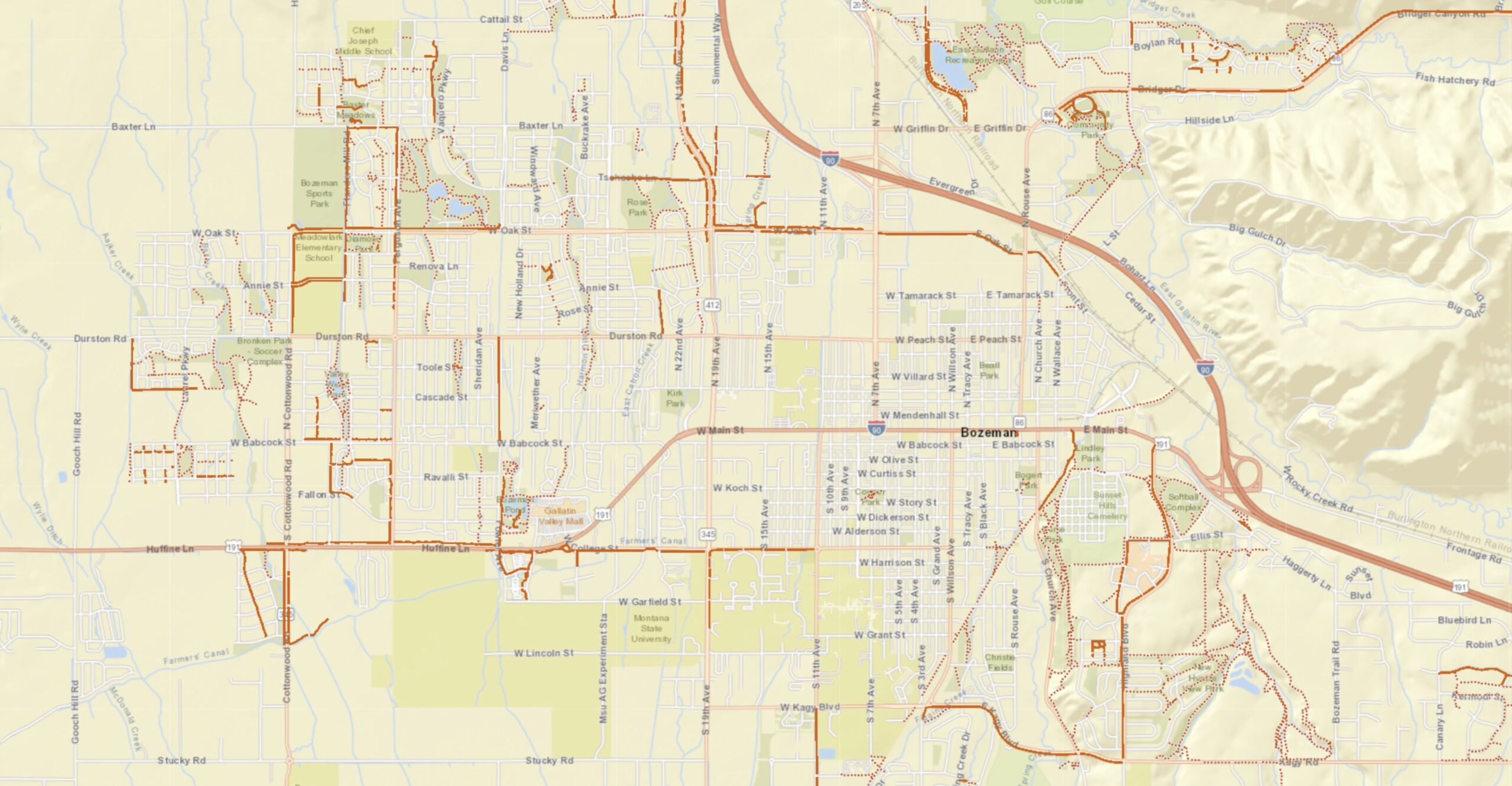 MAIN STREET TO THE MOUNTAINS TRAILS
M Trail
M Trail is a 1.7 mile moderately trafficked loop trail. The Montana State University "M" is located at the mouth of Bridger Canyon on the south flanks of Baldy Mountain. The trail's namesake "M" was created by MSU students in 1915. The 250-foot whitewashed rock "M" has three trails to access it. The right fork follows the ridge for a short and steep hike. The left fork switchbacks through a fir and juniper forest, making a more gradual ascent. The left fork is the beginning of the Bridger Mountains National Recreation Trail, a 21-mile ridge route following the contours of the Bridger Range to Fairy Lake. This hike to the "M" climbs up the steeper ridge route and descends through the forest via the switchbacks.

---
Drinking Horse Mountain
Drinking Horse Trail is a 2.2 mile moderately trafficked loop trail. The Drink Horse Mountain trail is quickly becoming one of the most popular trails in the Gallatin Valley. Climbing 700 feet from Bridger Creek to the 5,522 foot summit of Drinking Horse Mountain, the figure-eight loop trail offers scenic vistas in the Bozeman area and surrounding mountain ranges. There are two trails(one steeper, the other easier) that make a 3.5 mile loop.

---
Peets Hill
Peets Hill is not only a popular spot to gaze out over the valley, but offers sledding in the winter and picture-perfect sunsets year-round. Peets Hill also makes a great jumping-off point, as it connects to the Gallagator, Sourdough, and Highland Glen trails.

---
Gallagator Trail
Gallagator Trail is a 2.2 mile out and back trail. The Gallagator Trail connects Main Street to the south end of town at Sacajawea Middle School. It skirts Langhor, Lindley, and Burke parks, while also bypassing Peets Hill. The Gallagator Trail can be accessed easily at the intersection near Burke Park or on the east side of the Bozeman Public Library.