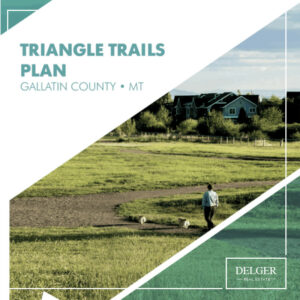 Gallatin County is one of the fastest growing counties in the western United States with an estimated 75% population growth since 2000. According to the U.S. Census Bureau, Gallatin County's population was 67,831 in 2000, 89,513 in 2010, and 118,960 in 2020, the latest year for which population estimates are available.
The Triangle area of Gallatin County, which is generally the area between Bozeman, Four Corners, and Belgrade, is experiencing change as a direct result of this population growth. In 2016, Gallatin County, the City of Belgrade, and the City of Bozeman created the Planning Coordination Committee (PCC) to focus on issues and opportunities within the Triangle. The Planning Coordination Committee was established through a Memorandum of Agreement (MOA) that outlined the need for coordination and communication between the City of Bozeman, the City of Belgrade, and Gallatin County, to support growth and development patterns as they expand in this area of the Gallatin Valley.
The Memorandum of Agreement identified issues around infrastructure, public safety, parks and trails, neighborhood design, and other land use concerns that would benefit from cooperative planning.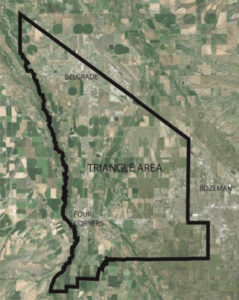 In 2019, the Planning Coordination Committee (PCC) developed the Triangle Community Plan to coordinate land use development patterns, deliver community services and infrastructure, and protect important environmental resources, all in a manner that supports community values and vision while responding to rapid growth pressures.
The Triangle Trails Plan will guide the development of non-motorized pedestrian and bicycle recreation and transportation infrastructure in future developments within the Triangle area. The communities of Belgrade and Bozeman have plans for trail connectivity, but the rapidly growing Triangle area of Gallatin County lacks a guiding document to ensure future trail development and connectivity. This plan serves as an extension and complement to the existing Belgrade Parks and Trails Master Plan and the soon-to-be-created and -adopted City of Bozeman Parks, Recreation, and Active Transportation Plan (PRAT).
The Triangle Trails Plan offers a robust, hierarchical approach to trail building, creating a network, interconnecting trails throughout the Triangle Area and providing a waypoint system similar to signs and mile markers along roads.
Gallatin county commission adopted the Triangle Trails Plan in January, 2022..