If you're lucky enough to have a wood-burning fireplace in your home, you need to store firewood indoors. Storing firewood doesn't have to ruin the aesthetic of your home. Here are a few stylish firewood storage ideas.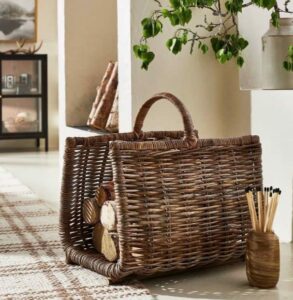 Add a textural touch to your fireplace design with this woven rattan log holder. The Rattan gives it a light natural feel and the handles allow for easy pick up and carry.
This woven rattan firewood basket also works great to hold blankets, pillows, etc.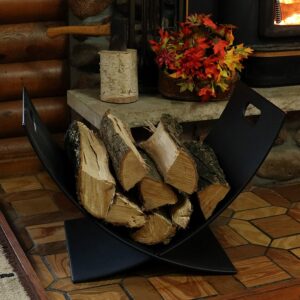 House your logs in this modern curved steel firewood holder. This 2 piece design provides a stylish and convenient place to keep your firewood neatly stacked and elevated off the ground. This streamlined design is the perfect addition to any mountain modern living room, but can also be used outdoors.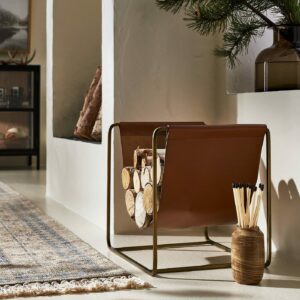 Beautifully crafted, this log holder combines the organic look of brown leather with the geometric lines of a bronze metal frame. The minimal design lines accentuate the beauty of your natural firewood, creating an ideal addition to the hearth.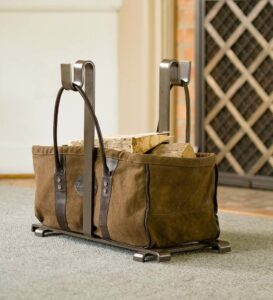 This Waxed Canvas log holder is a perfect solution to help transport firewood every day, but can also be used for firewood storage. This canvas log carrier for firewood has open sides, so you can load it up with any length of firewood, and it holds up to 10 standard logs with the strap and handles securely tightened, which means less trips to the woodpile and more time relaxing by the fire.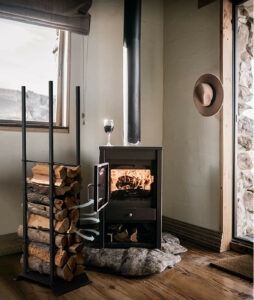 Simple and sculptural, this industrial-inspired firewood tower keeps logs tidy and at the ready next to the hearth. The metal log holder tower exudes a rustic lodge meets chalet chic kind of vibe. It's the perfect conversation piece to bring a little character to fireside chats.